If you are an electrical or security company looking to reach new customers in your local area then you could benefit from Google's Local Service Ads. These adverts help customers quickly find local companies that are also backed by Google's Guarantee.
Local Service Adverts Explained
Local Service Ads are a relatively new format from Google. They are a great supplement to your local SEO and their main aim is to boost the visibility of your services to help gain new customers.
Google Local Services is its own product and is not part of Googles pay-per-click advertising or Google my Business and Google Maps.
How do Local Service Adverts work?
When someone enters a query into Google that has a service-based keyword (such as 'electrician near me'), local service ads are triggered.
If your ad proves to be the best fit for a user searching for your service in your area, then it will show up at the top of Google search results.
If your advert appears, a customer will not only find your service easily, but they can also contact you directly through the advert.
The great news is that Local Service Ads are pay-per-lead, meaning that you will only pay when a customer contacts you directly, instead of just clicking on the advert.
A potential customer can contact you either by phone or direct message, which can all be tracked so that you can measure how effective the campaign is.
Where do Local Service Ads appear?
Local Service Ads are a great choice of advertising for local businesses as they appear at the top of Google's search page. They appear above paid search adverts and above Google Maps.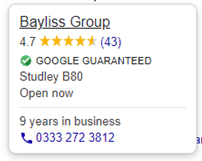 As you can see from the above example, the advert will show location, opening hours, ratings and reviews.
How are Local Service Ads ranked?
Google looks at certain criteria from your business to decide if you will appear or not – these are mainly your location and your review score. The review score looks at the number of reviews you have and also the average score out of 5.
What are the benefits?
You will certainly be able to increase your visibility locally by using Local Service Ads. A strong advantage is that you will only pay when a customer contacts you directly from the advert making them more cost effective and meaning you will be able to control your budget more effectively.
Customers who search and find you on Google can contact you directly. The quality of your leads should deliver high conversion rates.
The Google Guarantee
Your business will become 'Google Guaranteed' once you have signed up and completed the verification and screening process.
Once completed, your business will earn the Google green badge. The Guarantee helps you build a good online reputation giving potential new customers assurance that you have been vetted and approved by Google.
Get started with Local Service Ads
If you think your electrical or security business could benefit from growing awareness in your local area then get in contact with us today and we can talk to you about implementing advertising for you locally.